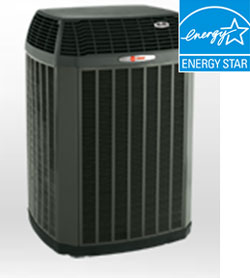 Heat Pump Repairing,
Troubleshooting & Installation
Emergency & Same Day Service
A heat pump is a heating & cooling device that uses a small amount of energy to send heat or cool air from the unit into your home.
Heat Pumps pull hot air or cooled air from the air or the ground.
Heat Pumps come in many difference capacities and SEER ratings. The higher the SAEER rating the more you get from your system for every dollar of fuel you spend. (See chart on right)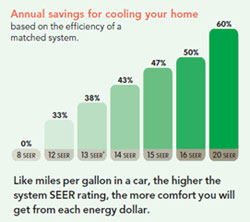 Heat Pumps 3 types
Air Source
Dual Fuel (Hybrid Heat)
Geothermal
Make sure your heat pump is properly sized for the best efficiency & comfort
How Heat Pumps Work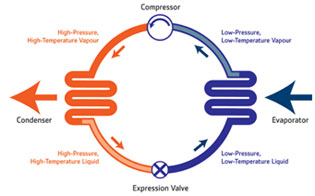 In winter, heat is absorbed from outside air, pumped to the inside, squeezed out of the freon, then the house fan blows the heat squeezed out through the duct system distributing it throughout your home.
In the summer, the process is reversed, absorbing heat from the inside and pumping it to the outside.
Trane Heat Pumps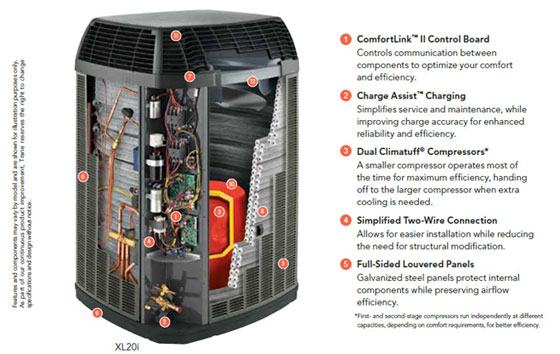 "Installed two mini-splits in parts of our house that needed AC. We will have them come out and install another in the baby room because we love the ones they installed so much. They arrived on time and finished when they were supposed to. I said I needed to get the project done by a certain date, and they were able to do it well in advance. The cost was reasonable to me. The mess was minimized, and I felt very comfortable with the workmen in my home. They were friendly, respectful, and knowledgeable. The experience was exactly what you would want and expect for a quality service provider."

Diane, Chestnut Hill, PA